Loving Lindsey Bracelets
At Lindsey's memorial service, Lindsey's dear friend, Danny Oldani, designed purple bracelets that said "Loving Lindsey." Lindsey and Danny's bond deepened Spring Break of 2010 when all of their friends from their weekly Bible study went to the Bahamas on a mission trip without them. School commitments kept them from going on the trip. They both longed to do some kingdom work along side their friends. Danny and Lindsey made the decision to share their testimonies to a group of 50 adults. It was a turning point in both of their faith walks. We never understood why the two of them didn't get to go on the mission trip until January 25th. Danny created the bracelets so that when others asked you about them you could share Lindsey's testimony and your own. That day back in 2010 has now created a means for kingdom work to be done all over the world. Our goal is to have a purple bracelet in as many countries as possible. If you would like your own Loving Lindsey bracelet or a group of bracelets to take with you on your next adventure, please contact us at lovinglindseylee@gmail.com or purchase them online.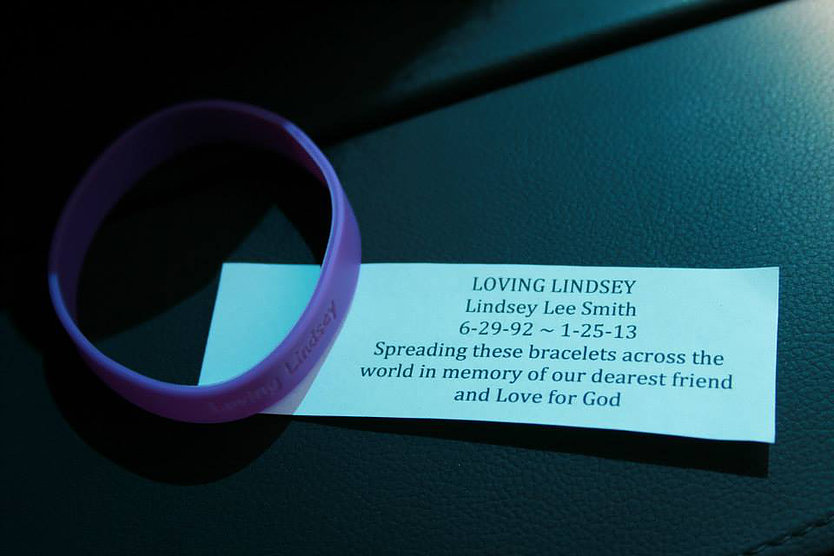 Hebrews 12:1-3 Therefore, since we are surrounded by such a great cloud of witnesses, let us throw off everything that hinders and the sin that so easily entangles. And let us run with perseverance the race marked out for us, fixing our eyes on Jesus, the pioneer and perfecter of faith. For the joy set before him he endured the cross, scorning its shame, and sat down at the right hand of the throne of God. Consider him who endured such opposition from sinners, so that you will not grow weary and lose heart.